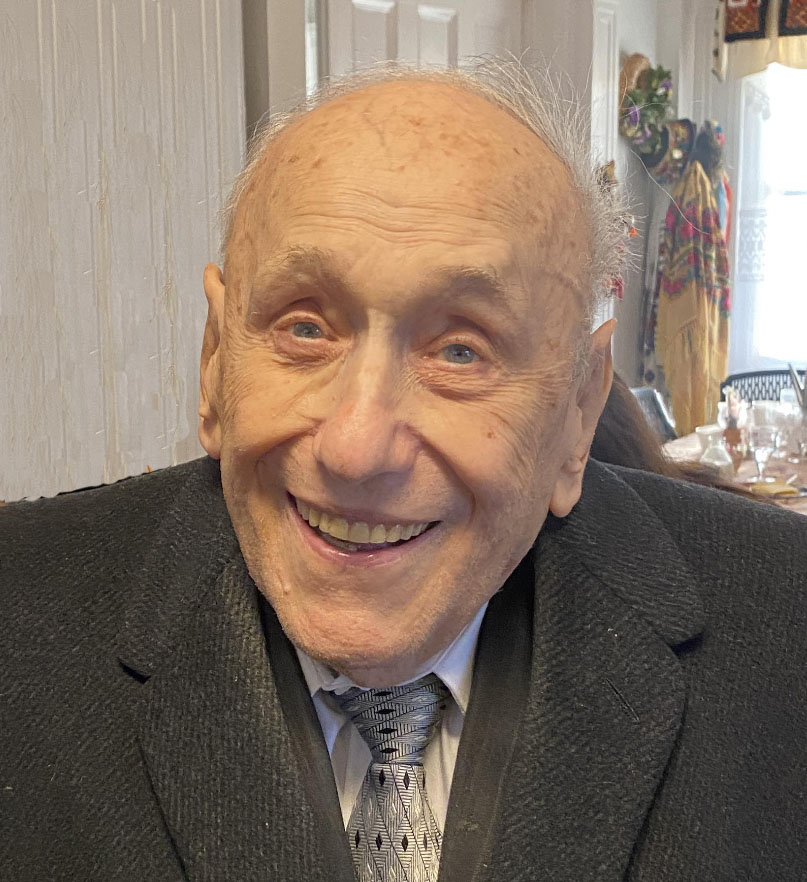 Obituary of Wasyl Werbowsky
Please share a memory of Wasyl to include in a keepsake book for family and friends.
It is with great sadness that we announce the peaceful passing of our dearly beloved father, Wasyl Werbowsky (aka Bill, Willy, Tato), on Thursday, June 8, 2023 at 97 ½ years of age. Wasyl was born on January 1, 1926 to Joseph and Maria in Zhydachiv, a small village in the Lviv Oblast in Ukraine, which was at that time, occupied by Poland. He was youngest of ten children – (eldest born in 1898), and was born with a twin sister, who was stillborn. He worked on the family farm and loved to tend and ride his father's many horses, which his father trained for the military. When WWII broke out, Wasyl fled his home at age 15 (1941) and eventually made his way to Vienna, Austria, where he met up with his older brothers, Joseph and John. Since Joseph was 28 years older than Wasyl, already an Austrian citizen, and had the same name as their father, brother Joseph adopted his "baby" brother Wasyl as his son and thus, got him an Austrian citizenship. While living in Vienna for about 10 years, Wasyl learned German, graduated from a trade school and became a butcher. After WWII ended in 1945, France, Great Britain, the United States, and the Soviet Union divided Austria into four occupation zones. When traveling between zones, Wasyl had to evade capture and repatriation by the Russians. He was caught by the Russians on two occasions but managed to escape his captors each time. Being under constant threat of repatriation, Wasyl hid and was smuggled out of the Soviet zone on a military bus transporting American soldiers to the American zone. He eventually immigrated to the United States in the late 1940's. During his lifetime, Wasyl did get to visit family in Ukraine and Austria but unfortunately his parents and some brothers had already passed on. Brother John, who was older by 18 years and already living in the USA, sponsored his baby brother's immigration to the USA. The two of them became active members in New York City's Ukrainian community and brotherhood organizations. Wasyl also studied at New York University and hoped to become an electrician. While living and working in Manhattan, he met and fell in love with Anna "Nusia" Sym, but their future was temporarily put on hold when he was drafted into the US Army in June 1951, at the age of 25. Since he spoke English and was older than most draftees, Wasyl was assigned to train and supervise younger recruits. In Korea, Wasyl was in the MIS (Military Intelligence Service) division and served as an interpreter for the Americans, due to his knowledge of Ukrainian, Russian, Polish and other Slavic languages. His photo on propaganda leaflets were released over North Korea to encourage surrender. After the Korean War (Conflict) ended in July 1953, Wasyl was held from active military service and transferred to the Army Reserve to complete his 8 years of service. He married Anna on May 23, 1954 at St. George's Ukrainian Catholic Church in Manhattan and during their lifetime, they would have a total of 6 children (2 died at birth). Wasyl and Anna became naturalized US citizens in January 1957 and became parents shortly thereafter. Wasyl then reluctantly had to end his education to support his family. He continued working as a butcher in Manhattan's Meat Packing District. As the family continued to grow, they moved from their rental apartment in Astoria, NY and bought a brick house in suburban Forest Hills. Wasyl was honorably discharged from the army in August of 1959 and earned a Korean Service Medal with 2 bronze stars and a United Nations Service Medal. One of our parents' biggest sacrifices was selling their Forest Hills home after living there for about 6 years, but with a 4th child on the way, Wasyl moved his family to a large rental apartment in the lower East side – East Village in Manhattan. He needed to be closer to his workplace and wanted his family to be in walking distance of St. George Church and School, various Ukrainian youth organizations and anything else the city could offer. We lived within this Ukrainian community for about 30 years. Wasyl was an early-riser, and a disciplined and hard worker with a lot of common sense. Every day at 4 a.m.—through, rain, sleet or snow—he rode 1 1/2 miles across town on his bike to work. He was later promoted to head butcher and then to foreman, to handle special orders and cuts of meat for high-end restaurants because of his training in butchery and veterinary diseases. Our father shared his work experiences with us—including taking his son, Zenon, to work with him at 4 a.m. while seated on the handlebars of his bicycle. On one occasion, he brought home with him a buck's head with antlers and we were especially fascinated by its large blue-black eyes. On another occasion, he brought 3 deer tails, which we were hoping to turn into "lucky rabbit-foot" like mementoes. Living in the big city, our father found ways to entertain us and keep us active outdoors. During summer breaks, he took us swimming to Orchard Beach, Jones Beach and Coney Island and on mini vacations to Soyuzivka or Suzy-Q for short, as it was called. Eventually, we spent our entire summers in the Shawangunk-Catskill Mountains, where our father would rent a bungalow for his family. He worked hard during the week and would take 3-day weekends to be with his wife and children. After many years of renting bungalows at various Ukrainian resorts, he purchased a log cabin house in Accord, NY, which initially served as a summer getaway, a short winter weekend escape for the family and eventually, their escape from the hectic life of NYC. We had many memorable adventures: riding in an inflatable canoe, climbing trees and eating crabapples, enjoying hayrides, capturing salamanders after the rain, flying kites—and losing many kites, picking mushrooms and blueberries and spending our days in the pool. We remember frightening lightning strikes of our bungalow and the "Spookeyman", who lived in the large barn in back of the bungalow and haunted us if we were not in bed on time. We also learned where chickens come from and how they end up on the dinner table. Unbeknownst to our parents, some of us hid in a nearby tree and quietly watched Mama handle the live chickens. Father (Tato in Ukrainian) taught us how to swim and to ride bikes by using the ancient "hold and let go" method. He played soccer as a young man and his new team now consisted of 3 girls and a toddler son. Tato was also a very fast runner and always managed to beat us in races, no matter how big of a head start we had. Picking blueberries and mushrooms was a family project as well as a competition. One year, Tato picked the most mushrooms from all of us. Fortunately, Mama discarded all but 3 good ones from his bucket, which was filled to the brim with colorful, polka-dotted mushrooms. Tato loved horses and took us horse-back riding to different ranches. We have vivid memories when Oksana performed a slow-motion tumble from a very large, wide-backed horse while riding bareback on a ranch in Modena, NY. Saturday nights were spent attending concerts and dancing away at Soyuzivka, the Ukrainian Heritage Center in Kerhonkson, New York. And then there was the 3-week long Plast scouting camp – not a favorite for some of us, but Mama missed us immensely and never sent us away again. Our father was accustomed to waking up very early and had his ways to wake up his sleepy girls. He enjoyed cooking eggs and bacon for breakfast on Saturdays and then would walk around the house, spreading the aroma. This method worked better than dripping water down our necks or pulling the bed covers off! On weekends, he would take us bike-riding, roller-skating and scooter-riding in Central Park or along the East River promenade. We had picnics, visited zoos and enjoyed watching the miniature toy boats sailing in the Central Park Pond. He took his family to Ukrainian cultural performances at the NY Fashion Institute, as well as various museums and aquariums throughout the city. He and Mama enjoyed Ukrainian music and attended Saturday night dances with live bands at the Ukrainian National Home, which was just across the street from where we lived. Every hour, our father would check on us, to see if we were safe and sleeping while they were away. We, of course, could see him leave and cross the street from our 6th floor apartment window and would make-believe that we were asleep. If he knew what we were up to, he never gave it away, and eventually, we just got tired of it. After attending Sunday Liturgy, he'd pile his family into the Buick, and later our Oldsmobile, head out over the 59th Street Bridge to Sunnyside Gardens, Long Island to visit his brother John and his family. After Sunday dinners at home, Tato took upon himself to wash, detangle, brush and braid his daughters' long, thick hair, while they sat cross-legged in front of a black & white TV watching Wild Kingdom, Ed Sullivan, Johnny Cash and Walt Disney movies. He trimmed their bangs, cut their hair and one time gave Elizabeth a Cleopatra hairstyle. He believed that hair should be braided tightly to last the whole day. The daughters complained this was making their eyes to become slanted. In the winter, Tato took us to Rockefeller Center and taught us to ice-skate. We would go sledding and skiing upstate while staying at our log cabin in Accord. Skiing was a whole different story. He bought us cross country skis despite that we knew nothing about skiing, except that it was "downhill". Zenon initially practiced skiing by having our shepherd-husky mix dog, Litzar, pull him down the driveway. One time, he was pulled so fast over a self-made ramp, that he ended up pinned in crucified position, on top of a wild rose bush. Tato eventually took us skiing on the slopes at the Granite Hotel. After taking the tow rope to the top, we literally skied downhill in a straight line! After their children grew up and left home, Anna and Wasyl moved to their log cabin in Accord, NY, and became active parishioners at the Holy Trinity Ukrainian Catholic Church in Kerhonkson. He enjoyed concerts and especially recitals, which his wife helped to organize, and also sang in the church choir. He also enjoyed a good poker game with his friends from next door, who spent their summers at the "White House Hotel." Advancing in years, Wasyl and Anna moved to Syracuse, NY during the summer of 2002 to be closer to their son, Zenon and his growing family. They enjoyed attending their grandchildren's school performances and sporting events and also became parishioners of St. John the Baptist Ukrainian Catholic Church. They were fortunate to live in their home together and were married almost 68 years until Anna's passing on February 16, 2022. Our father, Wasyl, was demanding, but also patient and empathetic. He was an excellent provider and always managed (within reason) to give us what we wished for. He had a great sense of humor and left us with many very happy memories. Wasyl was devoted to his family, his Ukrainian Catholic religion and his Ukrainian heritage. In addition to love of horses, he enjoyed Ukrainian music, opera, and classical music. He also loved Viennese music & waltzes and introduced us to the beautiful white Lipizzaner horses. He loved to dance to lively music, including the oldies and even some Rock & Roll. Thank you, dear Father, for all you sacrificed, to give us what we needed and wanted. We thank you for taking care of Mama and us kids through the years; it wasn't always easy. May you rest peacefully now in our Lord's arms. By the way, please say hello to Mama from us. We love you both dearly and miss you immensely. Wasyl is survived by his four children: three daughters, Oksana Duda (Peter), Maria Werbowsky, and Elizabeth LaPointe, and son, Zenon Werbowsky (Laurie). He leaves behind 7 grandchildren, Teresa Duda, Gregory (Silvia), John, Teresa (Logan McAnulty), Joseph, Naomi, Laryssa and a great-granddaughter Mia. Wasyl was predeceased by his wife Anna, his 9 siblings, and his grandson, Mykola John Duda. Arrangements are entrusted to Macko-Vasallo Funeral Home, 1609 West Genesee St. Syracuse, NY 13204. Viewing is scheduled for Tuesday, June 13, 2023 from 5:00 to 7:00 p.m. Panachyda service will be at 6:30 p.m. Funeral and Parastas service will be held on Wednesday, June 14, 2023 at 12 Noon, at the Holy Trinity Ukrainian Catholic Church, 211 Foordmore Rd, Kerhonkson, NY 12446. Burial will be at Holy Spirit Ukrainian Catholic Cemetery, 141 Sarah Wells Trail, Campbell Hall, NY 10916 at approximately 2 p.m. A tryzna/luncheon gathering will take place afterwards at Delancey's Restaurant, 40 Park Place, Goshen, NY 10924 In lieu of flowers, donations in Wasyl's name can be made to "Revived Soldiers Ukraine" at https://www.rsukraine.org/ "Revived Soldiers Ukraine" is a non-profit organization dedicated to providing aid to the people of Ukraine in support of their fundamental human rights and medical rehabilitation of Ukrainian soldiers.
To send flowers to the family or plant a tree in memory of Wasyl Werbowsky, please visit Tribute Store
Prayer Service
6:30 pm
Tuesday, June 13, 2023
Macko-Vassallo Funeral Home
1609 West Genesee Street
Syracuse, New York, United States
Funeral Service
12:00 pm
Wednesday, June 14, 2023
Holy Trinity Ukrainian Catholic Church
211 Foordmore Road
Kerhonkson, New York, United States
Visitation at Funeral Home
Macko-Vassallo Funeral Home
1609 West Genesee Street
Syracuse, New York, United States
Online Memory & Photo Sharing Event
Ongoing
Online Event
About this Event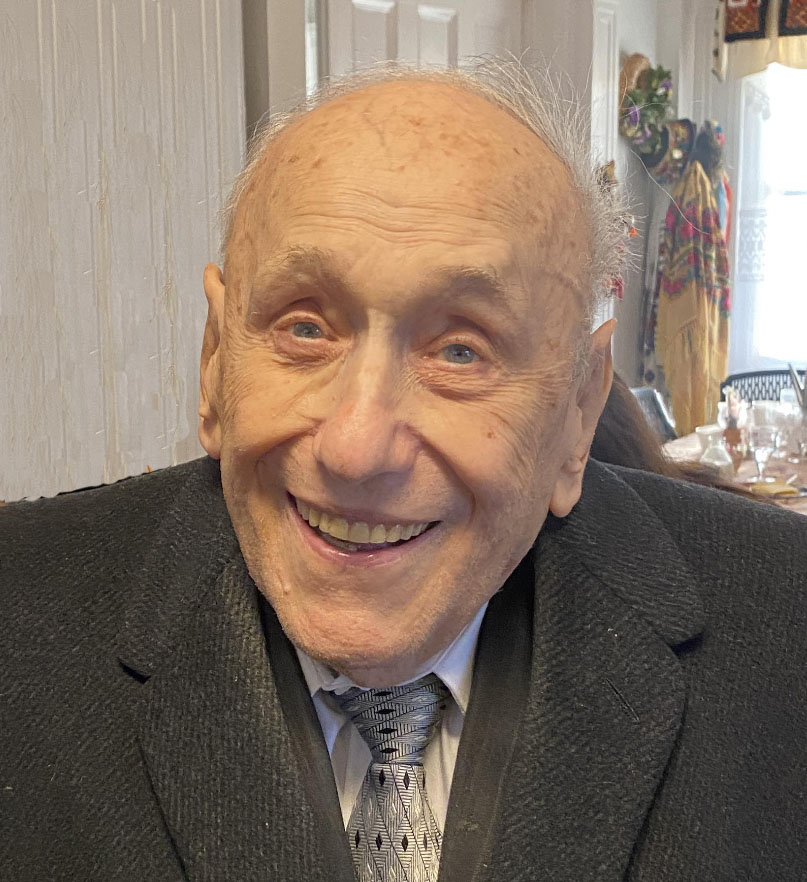 In Loving Memory
Wasyl Werbowsky
1926 - 2023
Look inside to read what others have shared
Family and friends are coming together online to create a special keepsake. Every memory left on the online obituary will be automatically included in this book.


Share Your Memory of
Wasyl