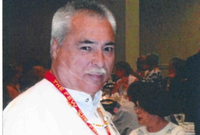 Alexander Romanenko
Alexander W. Romanenko, Sr., 72, of Syracuse, passed away peacefully on July 4, 2019. Alexander was born in Austria and with his parents he emigrated to Venezuela then at the age of 12 came to the United States where he settled in Syracuse. He was a 1966 graduate of Corcoran High School then that same year he enlisted in the U. S. Marines. He attained the rank of Lance Corporal then was deployed to serve in Vietnam where he worked as a Reconnaissance Officer. While serving in Vietnam he was a Purple Heart recipient for injuries he received during battles. After recovering from his injuries, he was honorably discharged and returned to civilian life where he went on to serve for over 20 years as an Onondaga County Sheriffs Deputy. During his time as a Deputy Sheriff he received the Medal of Distinguished Service Award and the Medal of Honor.
He was predeceased by his parent Wassyl and Wera Romanenko.
He is survived by his 2-Sons Alexander Jr., and Paul Romanenko; his grandchildren and great grandchildren, as well as his half brother and sister Paul and Martha.
A memorial service will be conducted at a future date.